Our Produce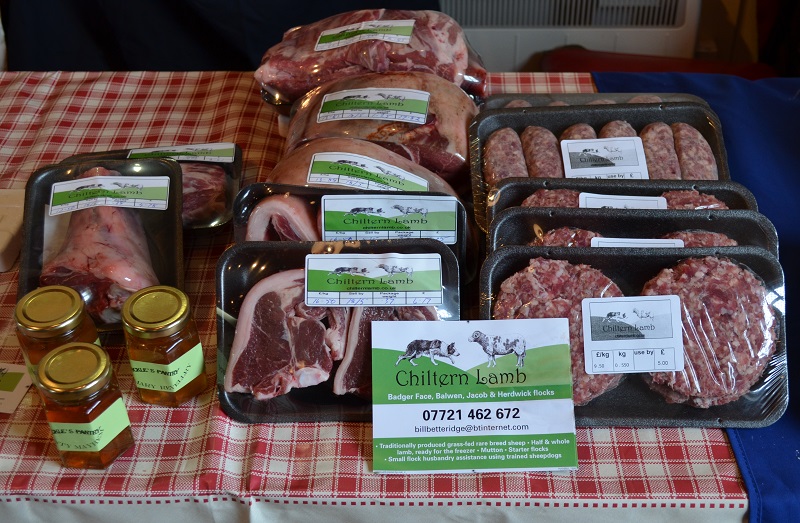 Chiltern Lamb produces lean, well flavoured meat that is entirely grass fed. Allowing our sheep to grow at a natural rate and mature gradually without forced, intensive feeding, results in an excellent quality, flavoursome meat.
The lamb and mutton products available from Chiltern Lamb are traditionally produced. We believe in eating less, but better quality meat and feel that we offer an unrivalled product in the local area.
Lamb
Our lambs are at least eight months old and typically 10 months before they go for slaughter. This compares with the four to five months that is typical for commercial lamb production for the supermarkets and most butchers. This results in a very lean meat with great flavour. Following slaughter, the carcases are hung for a week to mature contributing to the intense flavour we pride ourselves for.
Hogg or hogget
Different definitions are used for hoggs or hogget lamb. It can be used to refer to sheep that are less than 12 months old that have not been sheared. It is also used to refer to sheep that have cut two teeth and hence up around 18 months old. Our hogs are between 14 and 19 months old. We produce hogget because we like the richness of flavour of the meat they provide. We only mature a limited number of animals for hogget, so if you would like hogget meat please
contact us
to notify us in advance.
Mutton
Our mutton is usually produced from Herdwicks as they are a slow growing large boned sheep that take 18 months to two years to fully mature. It can be grown as a lightweight lamb, but to reach its full potential it is best to let it mature slowly. Mutton is generally at least two years old. The best flavour comes from animals that have a forage based diet (for example, grass, heather and root crops). Following slaughter, it should be matured (hung in a chiller) for at least two weeks. Although mutton can be available all year, the best meat is produced from October-March. This is because the sheep have access to nutritious summer and autumn grass so are at peak condition. Mutton is a darker, rich meat that has been given a chance to grow into its flavour. Best cooked on a low heat vey slowly. The Herdwick, Hebridean, and Welsh Mountain are just some of the breeds of sheep with a historical reputation for producing delicious mutton.
Farmers markets
We can offer all of the following for sale at farmers markets, though not necessarily all of the time, since if a cut is used in one way, it isn't available to do anything else with. See our
Where to Buy
page to see when and where these are.
Shoulder on the bone (whole and half) Leg on the bone (whole and half)
Butterflied Leg Rolled Shoulder
Diced shoulder Diced leg
Rolled breast Stuffed breast
Stuffed noisettes Barnsley chops
Rack Cutlet
Chops – plain & lightly minted Mince
Sausages - plain, with cumin or Burgers – plain, with cumin or
lightly minted lightly minted
Chops or cutlets? What's the difference? Well, normally size is the main determiner and that is how we differentiate. Cutlets are small and chops are bigger. Barnsley chops are the biggest being a double chop cut across the vertebrae and including two ribs.
Whole and half lamb for the freezer
We supply prepared whole and half lambs ready for the freezer. A whole lamb is typically 20-22kg and a half lamb 10-12kg. A whole lamb will cost around £ 180.00 and a half will be around £100.

We can tailor the pack to your specifications if you give us enough notice. Otherwise a typical whole lamb pack will comprise:
15 x chops
2 whole shoulders or 4 x half shoulders
2 whole legs or 4 x half legs
2 x neck fillets
2 x casserole joints
Mince
Liver
Kidney
Depending on how it is jointed
A typical half lamb will comprise:
7 chops
Whole shoulder or 2 x half shoulder
Whole leg or 2 x half leg
1 x neck fillet
1 x casserole joint
Liver
Kidney
Mince
Depending on how it is jointed
Restaurants
We are happy to supply to the restaurant trade. If you would like to offer your customers local lamb products,
contact us
to discuss your needs and arrange for a trial pack to suit.